Michael ONeill Photographer Writer Motorcyclist Adventurer
An Amazon #1 Bestseller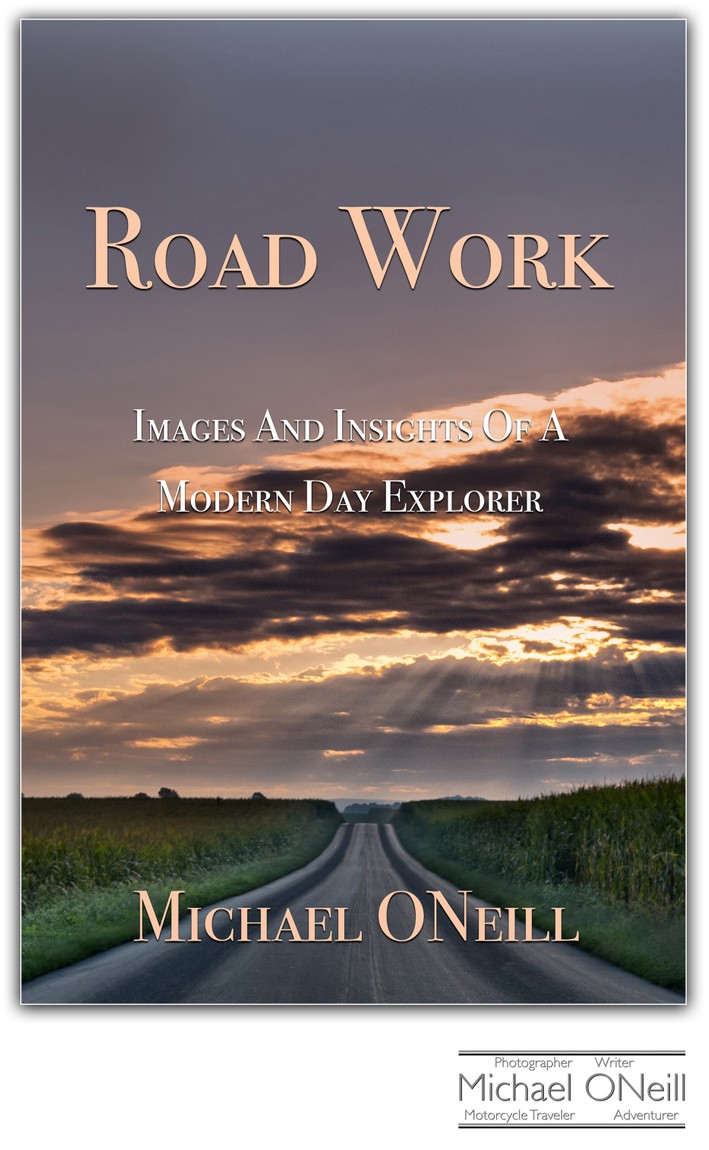 Road Work: Images and Insights of a Modern Day Explorer
In this autobiographical travelogue award-winning professional photographer and veteran motorcycle traveler, Michael ONeill, invites you to ride along on some of his two-wheeled adventures across The United States and Canada. Along the way he shares detailed and informative back stories behind some of his most memorable journeys, life lessons learned on and off the road, coupled with a bounty of timely social commentary; all accompanied by breathtaking photographic images captured during his travels. Whether you are a motorcyclist, just someone interested in the lifestyle or a person who wants to get more out of life; Michael's words and images are bound to challenge and inspire you on to greater adventures, experiences, successes and satisfaction in all that you do.
Click Here To Purchase The Paperback or Kindle Versions on Amazon
Click Here To Purchase on Apple Books
Praise For Road Work
• "This is not just about motorcycles but about life itself. Excellent photography and enjoyable to read. Inspires you to get outside and live a more full life!"
• "As a creator, photographer, designer, and motorcyclist, I enjoyed this book not only for how much I related to it, but for the realization of how much this journey will benefit so many people of all ages, even those who are not creatives or motorcyclists.
A powerful journey through life itself, Road Work reminds us all that life is most meaningful if you grab it and enjoy each moment, NOW. It reminds us of the beauty that exists in this world, despite the many problems we face. It reminds us of the benefits of practicing what we enjoy, and becoming a better, more fulfilled person.
This work was well-written, easy to grasp, swift in its conveyance of ideas, and, a wonderful escape to countless locales, restaurants, scenic spots, and natural marvels, through the eyes of a visual, talented, storyteller.
I highly recommend Road Work, if you want to be more inspired, more challenged to improve, or more enthusiastic about life itself."
• "I am an avid reader, and rider… Michael has written this book in such a way that not only keeps your attention, (It was very difficult to not read it all in one sitting!) but makes you feel like you are living his experiences through his eyes! He has certainly got more riding experience than I, but this book makes me want to put down what I am doing and get on the road!"
• "For the avid adventure motorcyclist or someone who goes touring on their bike, this is a great read. You will invariably think back to some of your adventures. Highly recommended!!!"
• "Order this book immediately. If you have an appreciation for riding or photography, you won't put it down. If you love both, you'll hope that he gets to work on the cross country version. Road Work is a great read!"
Click Here To Purchase The Paperback or Kindle Versions on Amazon
Click Here To Purchase on Apple Books