MEET MICHAEL
---
Hi!
I'm Michael and I'm a photographer. Have been for most of my life. Picked up my first real camera, as a hobbyist, in the early 1970's. By the late 1970's I shot my first professional assignment...a wedding. In 1984 I left a lucrative job in corporate America to pursue a career in photography full time. I opened a studio on Larkfield Road in the village of East Northport, New York and I'm still here some 30 years later. That is all I'm going to say about my job. If you're interested in my professional education, accomplishments and accolades check out the "Info" pages of this web site. I'm not going to bore you with those details here. This page is about Michael ONeill the person...not Michael ONeill the photographer.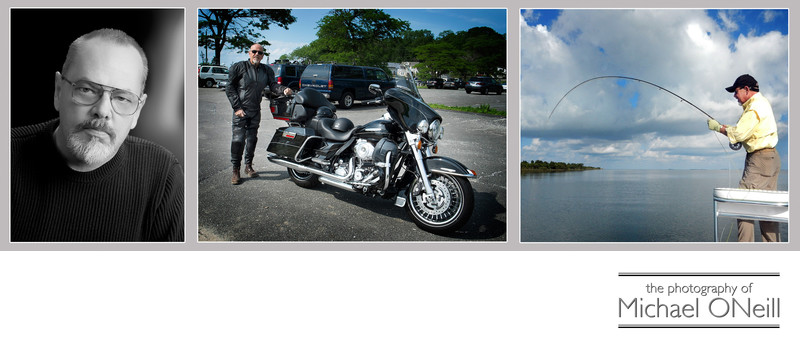 I live in the town of Northport, NY; in the Crab Meadow section, which is a quaint little waterfront community outside the incorporated village. I have lived in Northport since 1979 and can't imagine living anywhere else (Except when Old Man Winter rears his ugly head. Then I think I'd like to live anyplace else). I live with my beautiful girlfriend, Vivian, in a home we bought together in 2008. We are currently sharing our home with "Vega", a Shepherd-Dobie mix, who thinks he rules the place. Sometimes I think he is right.
I am an avid motorcyclist and have probably logged in excess of a quarter million miles on two wheels in my lifetime. I've ridden as far north as the Gaspé peninsula in northeast Quebec Province...some 400 miles north of Halifax, Nova Scotia. I've ridden out of New York to Key West, Florida three times and have ridden in the deserts of Nevada and Arizona on more than one occasion. I've ridden the White Mountains of New Hampshire, the Green Mountains of Vermont, the Catskill and Adirondack Mountains of New York and The Pocono Mountains of Pennsylvania more times than I can remember. I've ridden the entire length of The Blue Ridge Mountain range twice. The Rocky Mountains are still on my bucket list. I'll make it out there soon.
I am also an avid salt water fisherman...have been for more than 30 years. Long ago I spent a lot of time (and entirely too much money) in the pursuit of large gamefish...shark, tuna and marlin. I'm all done with that physically punishing nonsense now. I play an even crazier game on the water these days. I pursue large game fish with a fly rod. In my home waters I have caught striped bass as large as 25 pounds on a fly rod that weighs less than 5 ounces. On the flats off the west coast of Florida I have caught an 80 pound giant tarpon on that same rod (which is more suited to catching trout in a stream).
I'm not going to tell you I initially pursued a career in photography because it was something that I was passionate about. I've read stuff like that in so many biographies and can never accept it. Passion is not something you pursue...it is something that pursues you. I don't believe that you can be truly passionate about something until you devote a lot of your time, blood, sweat and tears to it. The more experience you have with something the better your skills become. By developing those skills you reap more rewards and greater satisfaction from your pursuits and put yourself in a position to touch the lives of others in a positive way. Passion, in my humble opinion then, is a result of years of dedication, practice and experience. I can honestly tell you that I am passionate about long distance touring on my motorcycle, I am passionate about fishing and I am passionate about my photography. I hope I am blessed with the opportunity to share one or more of my passions with you.