Seneca Rocks West Virginia Motorcycle Road Trip Photos Adventure Writer
"The thoughts that really roll through your mind on the eve of a road trip run a lot deeper than what is packed in your saddlebags. One thinks a lot about the weather. Not every day on the road will be sunny, warm and pleasant. That is a given and inclement weather is just part of the game. Mother Nature can be the source of a motorcyclist's greatest pleasure. When she is at her finest she can overwhelm you with sensations one never encounters in any other form of travel. Every input is a total sensory experience. A change of one or two degrees in temperature is felt on the surface of your skin. The fragrance of fresh grass clippings or blooming lilac can bring you to rapture. (Conversely the smell of manure or roadkill has the complete opposite effect on one's olfactory mechanisms)."




"Inclement weather is not the travesty that most people think it might be. I know some motorcyclists that have never ridden in the rain. Half of them because they don't want to get their chrome-plated prized possessions dirty; the other half because they are not yet proficient with the special challenges of riding in less-than-ideal circumstances. Touring long distance on a motorcycle demands that you develop the skillsets required to safely navigate when Mother Nature rears her ugly head. It's not ideal…it's just different. In its own miserable, damp way it can be highly rewarding…at least once that miserable stretch of ride is over."




Excerpts from "Road Work: Images and Insights of a Modern Day Explorer"




The excerpts above are from my Amazon #1 best selling road travel book which is available in paperback and Kindle versions on Amazon as well as on Apple Books. If you love motorcycle travelogues give this one a read. As the author I may be just a little bit biased, but I happen to think it's a great one.




If ever there were an image that I would associate with the written words above, this would be it. According to Wikipedia: "Seneca Rocks is a large crag and local landmark in Pendleton County in the Eastern Panhandle of West Virginia, United States. The south peak is one of a small number of peaks inaccessible except by technical rock climbing techniques on the East Coast of the United States. One of the best-known scenic attractions in West Virginia, the sheer rock faces are a popular challenge for rock climbers. Seneca Rocks is easily visible from, and accessible by way of, West Virginia Route 28, West Virginia Route 55 and U.S. Route 33 in the Spruce Knob-Seneca Rocks National Recreation Area of the Monongahela National Forest. The three highways converge in the hamlet of Seneca Rocks, which is named for the cliffs nearby."




On this fateful morning I found myself at Seneca Rocks after leaving some friends in their campground in Durbin, WV. It was my plan to leave Durbin at first light to get ahead of the approaching forecast storm, so I said my "goodbyes" to everyone in the evening and hit the road first thing in the morning. My best laid plans didn't work out and Mother Nature caught up with me an hour or so after I left the campground behind. This was clearly one of the worst storms I've ever encountered on a motorcycle road trip…so much so that I had to seek refuge in two different gas station/convenience stores I lucked upon in my travels. I spent nearly an hour at the first one and more than an hour at the second. I'm not adverse to riding in the rain unless it comes down in such volume that the roadways become dangerously awash with the flooding torrent. It happened twice on this stretch of road…one of the worst days, weather wise, that I can recall in nearly four decades of riding. All said and done it took me five hours to traverse the first 90 miles of this day's riding! Then the sun came out and all my buddies, who waited in West Virginia for the storm to pass, had a nice dry ride back home to Long Island. I wanted to get a nice picture of my BMW motorcycle with Seneca Rocks in the background. I pulled into the deserted parking area of the National Recreation Area, hopped off the bike, took this quick snap shot with my Apple iPhone and got back on my way. I wouldn't even risk taking the time to remove my professional Nikon mirrorless camera from its watertight case. Despite my haste, the storm caught up with me and I took two more iPhone pictures at my first refuge…not worthy of display here alongside my other travel photographs, but certainly adding something to the story of this miserable ride: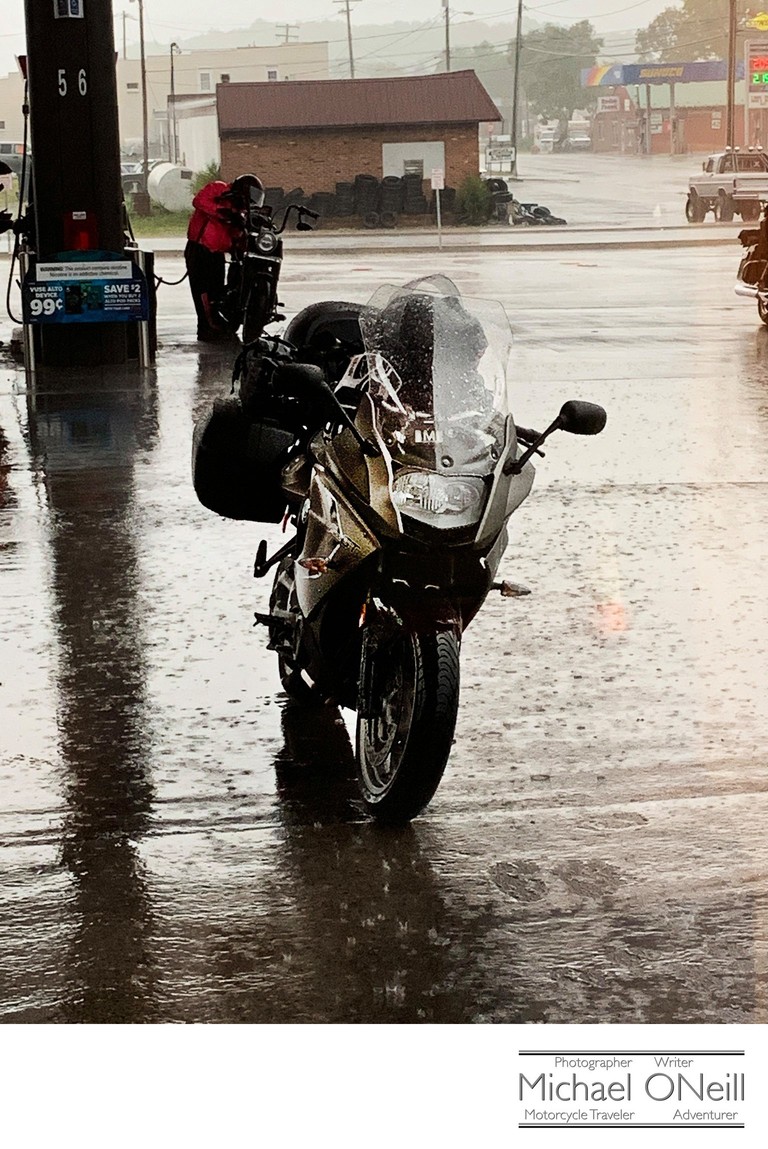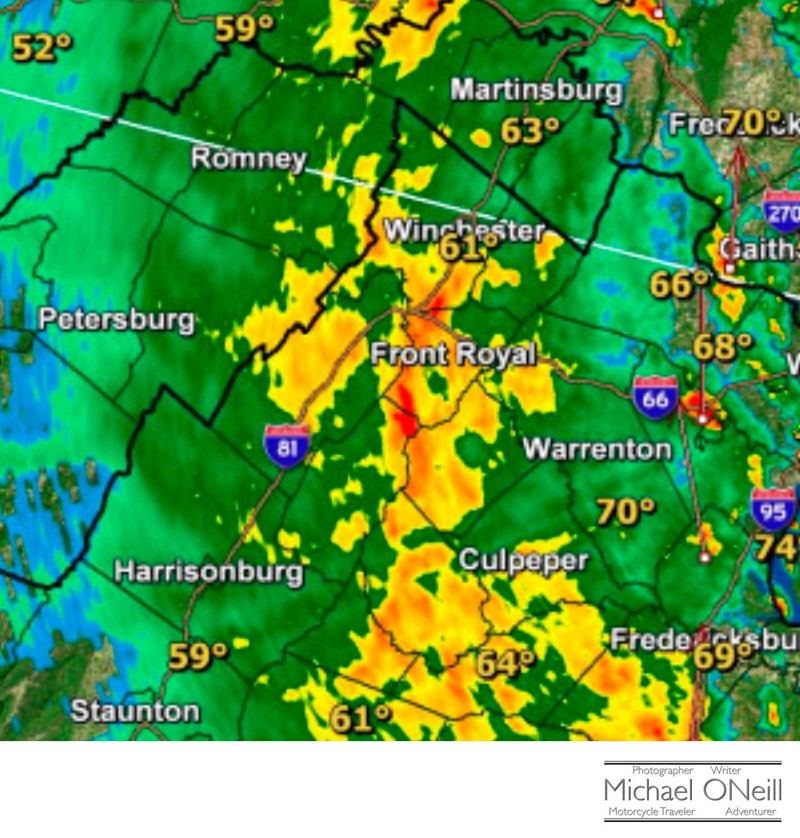 My photographic images and written words grace the pages of many magazines and online resources in the photographic, motorcycle, motorsports, travel and hospitality industries. The images you see here on my web site are just a small sample of my body of stock photography work (all of which is available for sale or lease) and I am available to discuss and undertake any creative project assignment that you may have in mind…preferably ones that can be accessed on two wheels. I'll take any excuse to ride, you know.